NOTICES
Make subtitles quickly by using 'Automatic Subtitles'!
Aug 5, 2021
Thank you V Fansubs subtitle creators for always creating subtitles in different languages so that more K-POP fans around the world can enjoy the content together! Now we present to you our new feature!
#What are Automatic Subtitles?
By using NAVER's CLOVA, which is equipped with audio recognition technology, we provide subtitles that are made automatically. I hope this 'Automatic Subtitles' proves useful for the creators to create more subtitles on V Fansubs!
#How can I see the Automatic Subtitles?
The subtitles with the [AUTO] sign shown in the videos inside the 'Translator' tab are subtitles created automatically.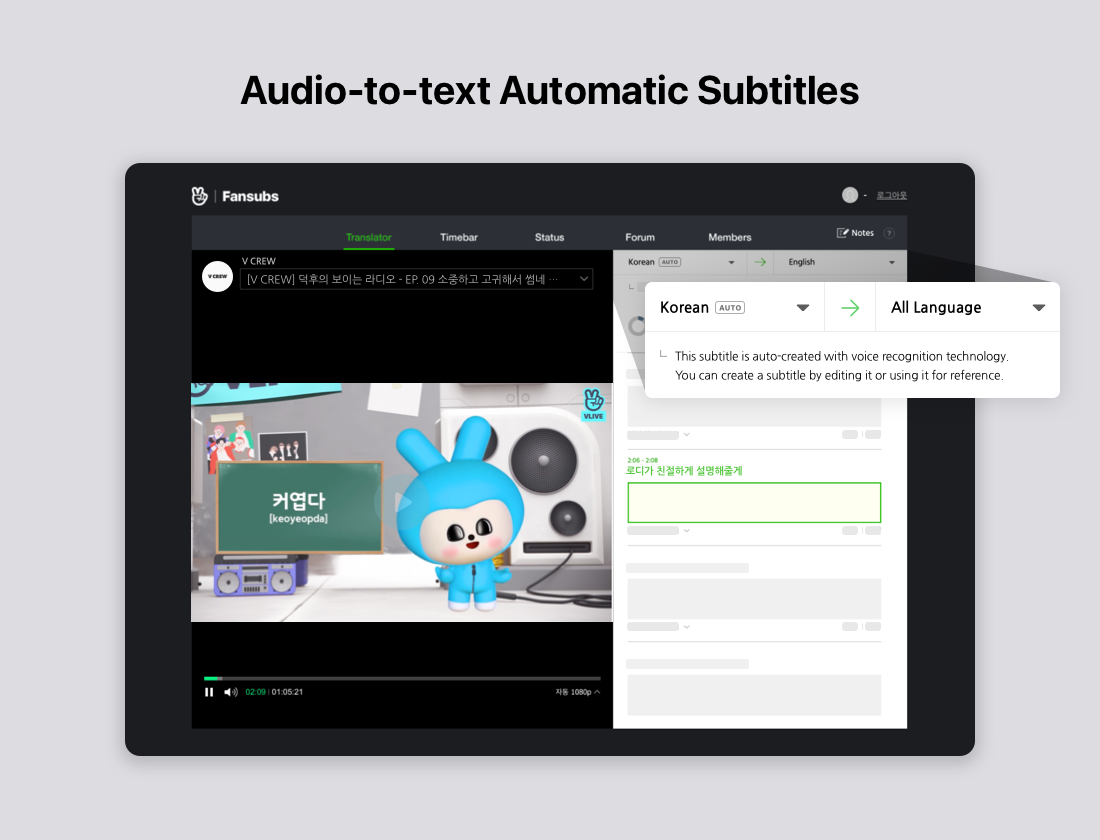 #Which languages are available for Automatic Subtitles?
Only Korean is available at the moment. We are planning to update other languages soon.​​
#Could there be no Automatic Subtitles? I can't find subtitles with the [AUTO] sign.
Automatic Subtitles don't show if they're highly inaccurate. Also, they no longer show when the other creators have already created the subtitles for the video.​
#I would like to edit Automatic Subtitles.
Automatic Subtitles are like an outline for complete Korean subtitles and might need editing. If you create your own subtitles, select 'Korean' as the translated language, and send them to us, Automatic Subtitles will no longer appear on the video. Instead, it will show subtitles that you made with your credit.​